Commitment to Environmental Sustainability
We are committed to improving our impact on the environment.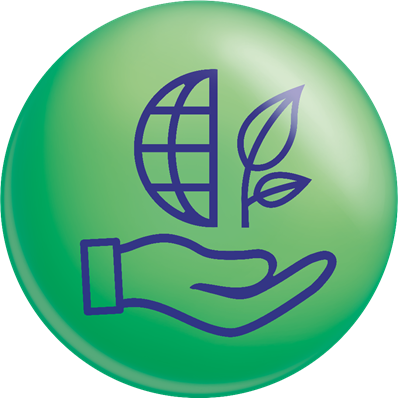 Commitment to Sustainability
At Perfetti Van Melle, we're committed to working in harmony with the world around us and conducting our business in a manner that is respectful of the planet and its people. We work in compliance with any governmental requirements within the countries where we do business and have in place a sustainability governance model, overseen by our Chief Sustainability officer, Sustainability Steering Committee, and Executive Committee (made up of our chief officers and CEO.)
We are focused on improving our environmental impact by targeting our packaging materials, carbon footprint and water footprint.
We are fully committed to delivering against meaningful measures to improve the environmental impact of our packaging, and to eliminate plastic packaging where possible.
Our packaging program is part of our larger Perfetti Van Melle sustainability program ensuring that our organization is working together globally to reduce our plastic packaging use.
Currently, our plastic packaging use is approximately 40,000 tonnes per year and we have 2025 packaging goals related to Reduce, Recycle, Recover:
Reduce plastic per tonne of product by 15% by 2025.*
Avoiding 5000 tonnes of not recycle-ready plastic by 2025.
Provide 100% of consumer packs with disposal indicator by 2025.
* versus 2018 baseline
As of full year 2020 we have reduced plastic per tonne by 9.4 % with respect to our baseline and avoided 1,200 tonnes of not-recycle ready plastic from our portfolio. We have initiated a dedicated program with robust implementation mechanism for our disposal indicator target, more details updates will be provided by 2022.
We're fully committed to improving the environmental impact across our value chain, currently focusing on the carbon emissions and water use in manufacturing our products.
In September 2021, Perfetti Van Melle signed on to the Science Based Targets Organization, publicly sharing our commitment to set science-based greenhouse gas emissions reduction targets across our supply chain in line with the scenario to limit climate change-related temperature rise to below 1.5°C and according to the criteria and recommendations of the Science Based Targets initiative (SBTi).
The Science Based Targets initiative drives ambitious climate action in the private sector by enabling companies to set science-based emissions reduction targets. By committing to science-based targets, Perfetti Van Melle has joined with other companies and organizations around the globe, all of whom are aligned with SBTi guidelines in lowering greenhouse gases.
Perfetti Van Melle Chief Sustainability Officer Andrew Boyd states, "I'm pleased to announce this commitment on our company's behalf. By signing our letter to SBTi, we are committing to setting by the end of 2022, then delivering by 2030, the targets and emissions reductions that science dictates are necessary for us to play our part in reducing the impact of climate change during this critical decade."
Carbon Footprint
Our current goal is to reduce CO2 emissions from energy in manufacturing.
As of 2020 we have achieved a 9.9% absolute reduction through a combination of:
Investing in on-site generation of renewable energy (to reduce Scope 1 emissions)
Procuring low carbon electricity (to reduce scope 2 emissions)
Implementing continuous improvement and energy-efficiency initiatives
ISO 14001 Certification of production facilities.
Water Footprint
Our current goal is to reduce our use of incoming water in manufacturing.
As of 2020, we have achieved a 6.4% absolute reduction through implementing continuous improvement and water-efficiency initiatives.